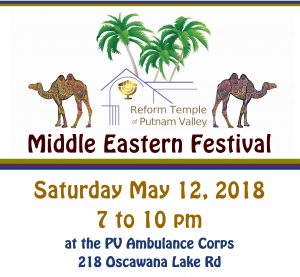 Celebrate the cuisine and culture of Israel and its neighbors, while supporting the Reform Temple of Putnam Valley
Festivities include:
Klezmer fiddling by Jake Shulman-Ment 
Israeli dancing led by Robin Bass
Take your taste buds on a culinary tour:
Enjoy cheeses and olives, salads, entrees and desserts prepared by our very own RTPV Brotherhood Chefs, featuring dishes from Ottolenghi and Tamimi's Jerusalem and Plenty cookbooks, the New York Times and more!
Wines from the region
Silent Auction ∞ 50/50 raffle ∞ Casual dress
$45 per person
Wine – $5 per glass
Tickets can be purchased by check at the temple or through the mail, or online at https://squareup.com/store/RTPV_Events_and_Fundraisers
RSVP by May 5 to Ed Rodman erodarch@aol.com
Mail to: RTPV Middle Eastern Festival
PO Box 232
Putnam Valley, NY 10579
This event, organized and sponsored by the RTPV Brotherhood, will raise funds for needed building repairs. Come out and have a great time!