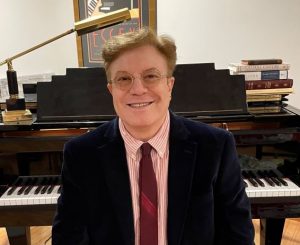 Upon his ordination from the Reform Movement's seminary, Hebrew Union College-Jewish Institute of Religion in New York, Rabbi Andrew R. Sklarz, DD, MSW, RJE, came to Reform Temple of Putnam Valley. As he expressed, "During my time at RTPV, I had a six year love fest with the congregation." Throughout those years, the congregation grew dramatically, as did the religious school. Simultaneously, he studied for and
received his Master's in Social Work at Fordham University, and ultimately worked with clients at the Mead Counseling Center in Greenwich.
Rabbi Sklarz subsequently moved on to larger congregations in Philadelphia, Greenwich, and suburban New Jersey. Devoted to pastoral counseling and interfaith work, Rabbi Sklarz, has served as a chaplain at a variety of hospitals, and was profoundly influenced by his work with cancer and AIDS patients at Memorial Sloan-Kettering Cancer Center. He is the recipient of a variety of awards for his pastoral work, has authored chapters in books including Broken Fragments: Jewish Experiences of Alzheimer's Disease through Diagnosis, Adaption and Moving On, Relational Care A-Z: We Are Our Other's Keepers, and Life, Faith and Cancer: Jewish Journeys Through Diagnosis, Treatment and Recovery, was showcased in the film, The Journey: A Survivor's Story, and was a recipient of the Israel Cancer Research Fund's Hero Award.
Rabbi Sklarz believes there are myriad ways in which people can "connect" to Judaism, and as a self-described non-conformist and non-conforming Jew, he strongly encourages a questioning of the status quo. Most of all, with his warm and compassionate manner, he seeks to create an environment in which Judaism is not only relevant and meaningful, but joyful.  A lover of Classical music, theater, yoga and cycling, Rabbi Sklarz is filled with gratitude to be thriving, some twenty years following his diagnosis of Leukemia. His experiences have led him to serve as captain of teams for both the Leukemia and Lymphoma Society and the American Cancer Society. Rabbi Sklarz extends much appreciation to his wife, Susan, daughter, Daniella, and son, Alexander, for being his greatest cheerleaders.