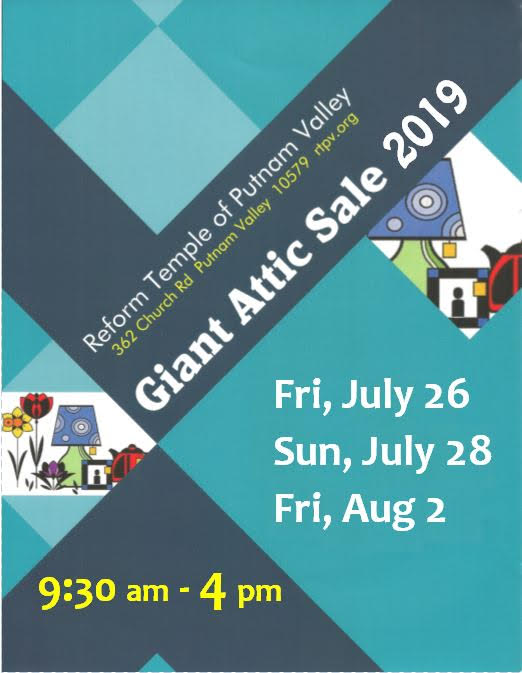 IF YOU WISH TO DONATE ITEMS YOU MAY DO SO ON :
FRIDAY JULY 5TH—-3PM-6PM
SATURDAY JULY 6TH—10AM—3PM

SUNDAY JULY 7TH—-10AM-2PM

FRIDAY JULY 12TH—-3PM-6PM
MONDAY JULY 15TH—9:30AM-1PM
FRIDAY JULY 19TH—3PM-6PM THIS IS THE LAST DAY TO DROP OFF DONATIONS
YOU MAY ALSO DROP OFF DONATIONS NO  LATER THAN 7:30PM IF YOU ARE ATTENDING SHABBAT SERVICES ON THE FRIDAYS SCHEDULED FOR DROP OFF.  
We will need volunteers for the drop off dates for the times indicated above.  Please reply to Brenda ASAP if you are able to help out and thank you in advance for volunteering.
Please only donate items that are clean and are in good condition. 

If you are donating electrical items then please make sure they work and are in good condition.

This year we would appreciate no donations of books and medical equipment.   

DO NOT LEAVE ANY ITEMS OUTSIDE THE TEMPLE.

 

We will also be reaching out for volunteers in mid July to help us sort the items and set them on tables for the sale.

A schedule of dates will follow soon. This is a voluminous endeavor and we need all the assistance that our members are willing to volunteer for.

Please respond to 

bsterner@optonline.net

.  if you require a special time to drop off your donation or call me at 845-284-2437 .

Regards,


Brenda Sternbach