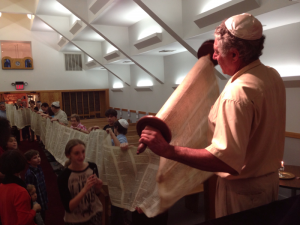 Dear RTPV Community,
Join us this Friday at 8PM  as we celebrate Simchat Torah, the completion of the annual cycle of reading from the Torah.  Come help us fill our Temple with joy as we dance with our Torah scrolls  and usher in the new cycle of reading the Torah.   Music from Cantor Annice will enhance our festivities.
If we have enough adults we will unroll the Torah as much as possible and encircle all our children with our sacred scroll to symbolically represent our commitment to lovingly guide and pass on its teachings to them.   We will read the last verses of Deuteronomy, the first verses of Genesis, and also take you on a short "tour" of the Torah, searching for some of our most recognizable stories and prayers. Come celebrate the wonders of Torah and Jewish peoplehood!  
Wear comfortable shoes and come ready to dance! 
See the announcements below and mark your calendars with all our wonderful upcoming events.
Blessings,
Rabbi Altarescu and Rabbi Levy
Stay all night, stay a little longer
Dance all night, dance a little longer
Pull off your coat, throw it in the corner
Don't see why you can't stay a little longer.
        —Willie Nelson
RTPV Announcements: October – November 2017
Tuesday, Oct 10th, 7:00 PM, Free Pizza and Beer Dinner in the RTPV Sukkah. Soft drinks too. RSVP to the Rabbis: lbslevy@gmail.com
Friday, Oct 13th, 8:00 PM, Shabbat service and Simchat Torah Celebration. Hebrew School Class dinner 6:00
Thursday, Oct 19th, 7:00 PM, Brotherhood Meeting at Doug's Pub in Cold Spring.
Friday, Oct 20th, 6:30 PM, Early Shabbat service. Potluck dinner following.
Sunday, Oct 22nd, Soul Stroll. Rescheduled from Oct 15.  Details will follow.
Thursday, Oct 26th, 7:30 – 9 PM Adult B'nai Mitzvah / Intro to Judaism Class, first meeting. Contact Rabbis for more information.
Friday, Oct 27th, 8:00 PM Shabbat service.
Sunday, Oct 29th, 8AM Hike up Breakneck Ridge. Meet at Temple at 7:30 AM to car pool.
Sunday, Oct 29th, 7:30 PM,  Meeting to discuss possible trip to Israel with other local synagogues. First Hebrew Congregation, Peekskill.
Friday, Nov 3rd, 8:00 PM, Shabbat Service and Facing History Program. Guest speaker Francoise Brodsky will present Understanding Immigration and Refugees: A Bridge from Yesterday to Today.  Sponsored by RTPV Social Action Committee.